Australia 2000 | Whiteoaks Home Page
Star Party Down Under
Jane Houston Jones
jane@whiteoaks.com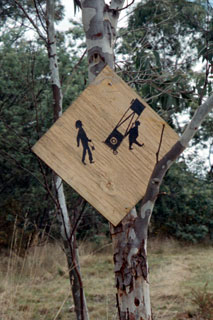 I fell in love with the southern sky last year. Five nights at Ayers Rock with Tom and Jeannie Clark and 30 other observers from the other side of the equator was all it took.
Waiting for us at the Ayers Rock resort in April 1999 were Astronomical Society of North Wales' members Tony Buckley and Lachlan MacDonald. It didn't take long to become great friends with these two. They suggested another trip "down under" should be planned immediately!
It didn't take much arm-twisting for me to persuade my husband-to-be that the Year 2000 South Pacific Star Party would make the ideal honeymoon spot. Imagine the romance! A secluded get-away in the Blue Mountains of Australia. And what better place for honeymooning astronomers than a star party!
The months of 1999 passed slowly. Our wedding took place Soon it was time to board our flight from San Francisco to Sydney.
Tony met us at the airport and whisked us off to Wiruna, the dark sky site of the South Pacific Star Party. Wiruna, three hours or 230 kilometers north-west of Sydney is the club's 107 acre observing site in the Blue Mountains of Australia.
We arrived, unpacked and then drove back 12 kilometers to the renowned Ilford Roadhouse for dinner. We just had to have one of those hamburgers we had heard so much about from everyone who had been to Wiruna. It's a hamburger topped with "the lot". It's a well-known right of passage for foreign visitors. The open-faced burger consists of bun, beef patty, bacon, lettuce, onions, tomato, pickles, and then topped with a fried egg, a huge beetroot slice, a similar sized pineapple slice. Then "the lot" receives a final topping: a big slice of cheese! French fries were strewn casually alongside the wreckage.
We had two nights until the official star party began on Friday March 31. The first night we set up, collimated and enjoyed using a homemade 12.5 inch reflector made by Lachlan MacDonald. This scope had an awesome mirror, and I felt right at home with it. I'm told the mirror was made by Bill Herbert of Columbus, Ohio. It was the same size and nearly the same focal length as my usual travelling companion, Strider, my 12.5 inch F/5.75 LITEBOX. Tony talked me out of bringing my own scope on this trip. We had plenty of telescopes to mooch photons through without hauling our own all over Australia.
Our first night of observing was a short one, and soon we were sound asleep in the "honeymoon suite" of the Wiruna Motel, in reality the small house on the property. We were out like a light as soon as our heads hit the sleeping bag covered foam pads! It clouded over shortly thereafter, Tony told us the next morning, just to make us feel a little less guilty for turning in so early. But in that first night we saw all the magnificent objects that we Northern Hemisphere amateur astronomers dream about. The circumpolar Magellanic Clouds, 47 Tucanae, and the Tarantula Nebula just to name a few. Who can ever forget the first look at the star Eta Carina and the distinct Southern Cross constellation? Overhead, that is! Most spectacular of all, I think, is that first look into the center of our own Milky Way galaxy. From latitude 33 S, it truly looks like the central bulge of an edge-on spiral galaxy!
During our second night of observing, we had Tony's 20 inch F/5 Obsession to use in addition to the 12.5 incher. A great night, punctuated by the oohs and aahs which accompany every astro-tourist's first look at the Southern Milky Way. Our binoculars were in constant use. We switched back and forth from scope-view to bino-view and to naked-eye view. The view of the Milky Way from this latitude makes this journey worthwhile, as if you really need a reason!
Many ASNSW members arrived Wednesday and Thursday to set up their tents, caravans (we call them motor-homes in the US) and telescopes. Some members reserved one of the 4 bunk- rooms in the amenity block. The rooms were named Vela, Puppis, Carina and Pyxis. The bunkhouse was named Argo Navis, by the way!
The star party began officially at 3:00 p.m. Friday with an opening address by President Tony Buckley. He welcomed the 300 or so members and friends who registered and had arrived by then. The afternoon speakers were yours truly, speaking about life, observing and mirror making with the Sidewalk Astronomers. Fellow club member Greg Bryant spoke on observing projects for 2000. Astro-photographer George Creaney from Las Vegas showed some incredible slides of his faint Northern Hemisphere objects. At dusk, we set up the 20 incher in the main observing field, and left the 12.5- incher up by the house, a quarter mile away. We used both instruments that night for many hours of southern stargazing.
That first South Pacific Star Party observing night was wonderful. The usual undertones of a big star party were all around us. Friends greeting friends. New scopes getting setup and proudly displayed. Short lines of observers at dozens of telescopes. Longer lines at some of the bigger telescopes. Astronomers explaining the views to new members, complete strangers and old friends. It's astro- heaven on earth. Ask anyone at a star party and you'll get the same answer!
One of the great features at the SPSP is the nightly Sky Tour. Several large aperture telescopes manned by experienced observers are made available for the new members or inquisitive beginners to look through. For about three hours we entertained the public aspect of the registrars with views of the universe. This is my favorite part of the hobby - - sharing the celestial wonders with others, so it comes as no surprise that I was soon leading the Sky Tour, giving Tony a chance to mingle with many friends. I wasn't alone on this tour, though. Club treasurer Max Gardiner took us all on a tour of the Large Magellanic Cloud. We observed dozens of the larger clusters and clumps of nebulae. Up and down the ladder we climbed. The LMC was quite high! I had time during these three nights to complete some projects left over from last year.
By about 2:00 a.m. I was tired. We had been observing since 8:00 p.m. Luckily the club had contracted with the local Boy Scouts who ran a 24-hour food pavilion. All night long the smell of deep fried donuts permeated the air. They were good and hot. The coffee pot was also available all night long. Peter Bobroff (of the Herald Bobroff Astro-Atlas) brought a fruit cake to help keep us awake.
It was fun sitting with him and others and discussing mirror making, observing and munching his cake! Earlier that evening, using his homemade 20-inch truss tube reflector, we located Shapley 1 in Norma, an annular planetary I just glimpsed at Ayers Rock through my 12.5-incher. I wandered around the fields mooching photons through dozens of telescopes.
Saturday dawned and we were worried about the weather. Any reader of star party reports knows that about 50 percent of them get clouded/rained/hurricaned/or smoked out. The SPSP met this fate as well. It rained off and on Saturday, mostly on unfortunately. The telescope making award competition began, but before the judges looked at three scopes, they were running for shelter, and the scope makers were covering their scopes against the onslaught of rain. The Astronomy Bazaar tent was packed with prospective buyers or those ducking the rain.
The afternoon sessions of talks were very well attended on this day. Dr. Vince Ford from Mt. Stromlo Observatory talked about his 35 years in astronomy. He reminisced and warmed us with his favorite discoveries, and regaled us with tales of working with famous astronomers. He ended his talk with slides of his favorite images of all time. He was an engaging speaker, and later on our trip, we visited with him at Mount Stromlo Exploratory!
My husband, Morris Jones (Mojo) was next. He presented a slide show about the building and use of the amateur observatory at Fremont Peak State Park, near San Francisco. (This is where we met!) The audience was very attentive. The room was packed - standing room only. (It was raining cats and dogs outside)!
It was time to call for help. A fiery sacrifice to the rain god(s) was prepared. A realistic model of a famous refractor, dubbed the "Startfire", was set in the bonfire, and set afire. Despite this noble sacrifice, followed by model rocketry provided by the Binocular and Telescope Shop of Sydney's own Mike Smith, the rain continued, harder than before the sacrifice, I think. No real telescopes were harmed in the making of this sacrifice, I hasten to add. The annual gustatory event, the spit roast, sated our appetites, and raised our damp spirits. But the rain continued. George Creaney gave his awesome slide show again to another packed house. Andrew James held forth in the tent telling star-tales to the youngsters. Raffle tickets were pulled and awards given. The South Pacific Star Party port wine, dubbed Star Port, was poured and we all toasted each other.
My lasting memories of the star party are of the great ASNSW members I met for the first time, or finally met after becoming e-mail friends over the last year. My memory of Andrew James, helping a young member of the club with an astronomy report is keen and long lasting. Adrian and Janet Saw, he at the spit roast, she at the registration desk are vivid in my memory, too. Sharing the wonder of the southern skies with Tony and Lachlan and dozens of others made the trip worthwhile. It's a honeymoon that I'll never forget! Tony and Lachlan, is it too soon to register for next years star party?
Postscript: The ASNSW has its monthly "Star Party" at every new moon weekend at Wiruna, so any US amatuers who cannot make the time slot for SPSP, or whose travel is business related and not time flexible can join this friendly group any time between official South Pacific Star Parties and get in some quality observing with big scopes. Contact the club through the easy web site address and get details on future or past SPSP, or even register - http://www.asnsw.com